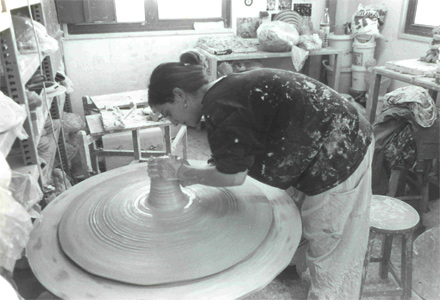 I love working with clay, its primal qualities and the boundless creative applications possible…
I have been working as a ceramic designer for the past 12 years in Switzerland, the UK, France and Israel. Influenced by my multicultural background and many transitions and inspired by events in my life and the different nature around me, I communicate with my inner feelings through my forms, using classical techniques in innovative ways.
My work represents a combination of art and design; two worlds in between which I travel daily in my practice exploring different types of tension. My pieces grow out of me in a step-by-step process from the concept, through research and into production.
I often unite more than one element to create dialogues that sometimes bring dualities and sometimes chaos and am intrigued by the rhythm created by sequential repetition.
My completed projects often hold inside them a thread that leads me to my next project, thereby creating a body of work that is continuously evolving, but remains connected to my core.